Rham "never let a crisis go to wast" Emmanuel was blindsided by the news that Goldman Sachs was being sued by the SEC: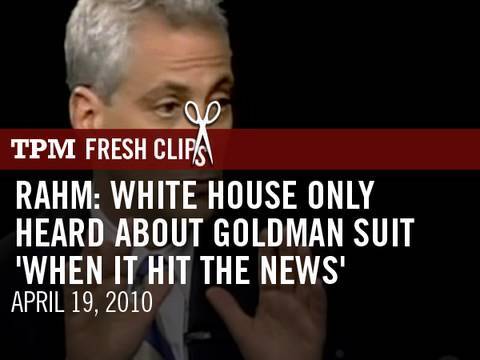 It's like Obama is completely detached from the happenings around the world. Yet, strangely, Obama and his henchmen already have a sophisticated PR campaign deployed:
A new White House ad that pops up on Google searches for "Goldman Sachs SEC" features a plea by President Obama for financial reform, and is creating its own controversy. The ad is triggering praise as a smart bit of cyber marketing, but is also being cited as possible evidence of White House pressure in a financial investigation.

The first result for a search of the terms "Goldman Sachs SEC" brings users to a sponsored link titled "Help Change Wall Street." Clicking the link takes users to a page on barackobama.com, featuring a photo of the president accompanied by a quote about Wall Street reform and a prompt to register with the site.

"We've seen and lived the consequences of what happens when there's too little accountability on Wall Street and too little protection for Main Street. It is time for real change," the quote reads.

A Democratic Party source confirmed the ad was bought by the White House political wing, Organizing for America, and said it was part of a strategy to purchase Internet ads pegged to the most talked about issues on any given day. The organization buys ads targeting the words people are most often searching. In recent weeks the White House political arm has bought ads with the keywords: "wall street reform," "AIG" and "big bank bailout."

"It is another great example of why the Obama Internet guys are the smartest guys on the block," said Phil Noble founder of Politics Online, a Web site that tracks how the Internet is used in politics.
Either their PR guys are the smartest guys on the block or they had a head start. Remember, this is the same government that can't get ObamaCare rolling until 2014…