Obama and co. aren't having much luck picking winners in the marketplace.
Via WZZM (Grand Rapids, Michigan):
LG Chem was expected to produce 15,000 batteries for electric and hybrid cars every year, as well as hundreds of new jobs. President Obama embodied the excitement during the ground breaking in Holland.

"You're leading the way on showing how manufacturing jobs are coming back to the United States of America," says President Obama.

Two years later, LG Chem has not produced a single battery and almost all of the 200 employees are on rolling furloughs, missing a week of work every month. Holland Mayor Kurt Dykstra says its a gamble the city had to take.
Remember back in 2010, when Obama was oh so proud of himself: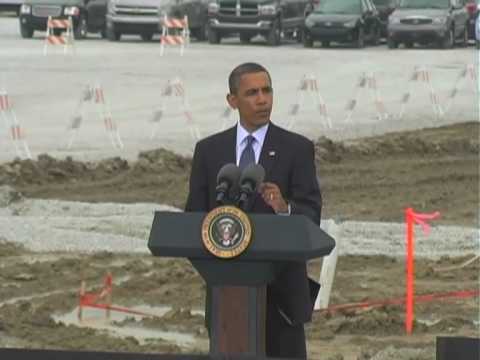 Note at 2:49 of Dear Leader's remarks, he's talking about small business at a groundbreaking event for a corporate handout to LG Chem, an industrial giant with over $11 billion per year in sales.
As pointed out here @ MCT at the time:
If electric vehicles are going to be such a money maker, and Michigan is such a great place to do business, why does LG Chem need a $151.4 million grant to construct a EV battery plant? It's not like LG Chem is a small start-up and is short on cash. Per LG Chem (just the division's) 2009 sales brochure:

At LG Chem, we have been partnering to meet the needs of customers for more than 60 years now. Since our founding as Lucky Chemical Industrial Corporation back in 1947, we have grown to become a global player in the chemical industry with annual revenues of over KRW 13.7 trillion and more than 13,000 employees worldwide.

13.7 trillion South Korean won = 11.3984 billion USD.

The LG Chem division has annual sales of over $11 billion and for a well run company of that size a $300 million investment is not a huge deal. Furthermore, if the EV market is going to live up to its hype, you would think companies such as LG Chem would be paying Michigan for the rights to construct lithium-ion battery plants.
This was a bad idea from the get go.