Apparently the World Cup soccer tournament is in full swing and, like clockwork, non-soccer fans everywhere are subjected to our quadrennial dose of soccer snobbery.
While the snobbery is expected from oh-so-well heeled and very liberal sportswriters, it is particularly galling when it comes from the likes of conservatives such as Breitbart's Mike Flynn:
Every athlete has a clearly defined and limited "position." Teams run pre-set "plays" which are memorized by players and dictated by coaches on the sidelines. In football, coaches determine every play and the athletes just execute the plays. Individual players can execute these plays brilliantly, but they rarely have the opportunity to seize the initiative and execute a new pattern based on situations on the field.
Obviously, this guy has never played a down of organized football in his life. Sure, coaches sends in plays from the sideline, however players make numerous adjustments to the "pre-set play" prior to the snap. Offensive linemen make a series of "tackle calls" to co-ordinate how the blocking scheme is executed based on how the defensive players are aligned. If a passing play is called, running backs will either stay and block or release for a pass based on the defensive scheme presented. Receivers adjust pass routs based on where defensive backs are positioned and so-on. On the defensive side of the ball, the game is played much the same way.
In reality, a so-called "set" football play is more like a computer program executed by the teams "if the defensive tackle lines up in my gap then…" If Flynn had played the game, he might understand this.
Flynn continues…
The oft-repeated observation that football is "American" or "red-blooded" because of all the tackling reminds me of a short guy driving a Hummer. Have these people heard of rugby? France, of all places, after all, is a powerhouse of a sport which is American football without the pads.

If sports writers can square that knot, then perhaps I'll listen to their criticisms about soccer.
Every time I hear the rugby thing it drives me crazy. Having played both football (a lot) and rugby (once or twice) the games are very different and I will square that knot for Mr. Flynn.
No doubt, rugby is a tough game. However if pro rugby players are so much tougher than say, an NFL player (since they don't wear pads), why aren't there more rugby players in the NFL pulling down multi-million dollar contracts? The NFL is hyper competitive. If a team feels they could gain the slightest edge by paying a pro rugby player a huge NFL contract, you know they would. An NFL team would pick up someone like rugby player Hayden Smith:
Smith was looking at the possibility of playing in the NFL and had a workout with the New York Jets, Philadelphia Eagles, Dallas Cowboys, Washington Redskins and the New Orleans Saints.[5][6]

The New York Jets signed Smith on April 3, 2012.[7] He was waived on August 31, 2012.[8] A day later, he was signed to the Jets' practice squad.[9] On October 27, 2012, He was promoted to the active roster from the practice squad.[10] He caught his first and only NFL pass on December 23,2012. [11] He was released on August 26, 2013.[12]
I guess all that toughness, playing without pads, didn't pay off for Smith. I fairness, most rugby players in the NFL are punters since kicking in rugby (Australian rules) requires a lot of skill that translates well to the NFL.
As far as personal preference, the sport I tend to enjoy most as a spectator is hockey.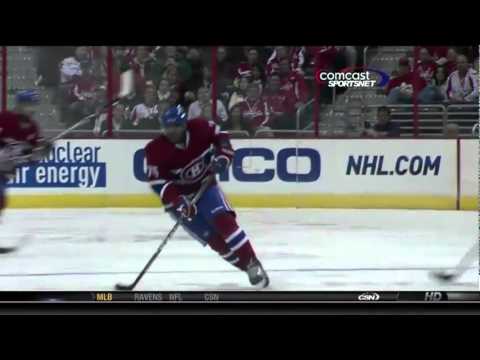 Now that is a rough game.
Anyhow, getting back to the quadrennial dose of soccer snobbery. I expect lib's to continually try to coerce everyone into the soccer collective through constant haranguing. It's what liberals do. I just don't expect the haranguing from the conservative side. It's not our style.